Product Management in 2022
Even though the pandemic showed that we are limited when it comes to predicting the future, it also made abundantly clear that we need to prepare for anything – that also goes for product management in 2022.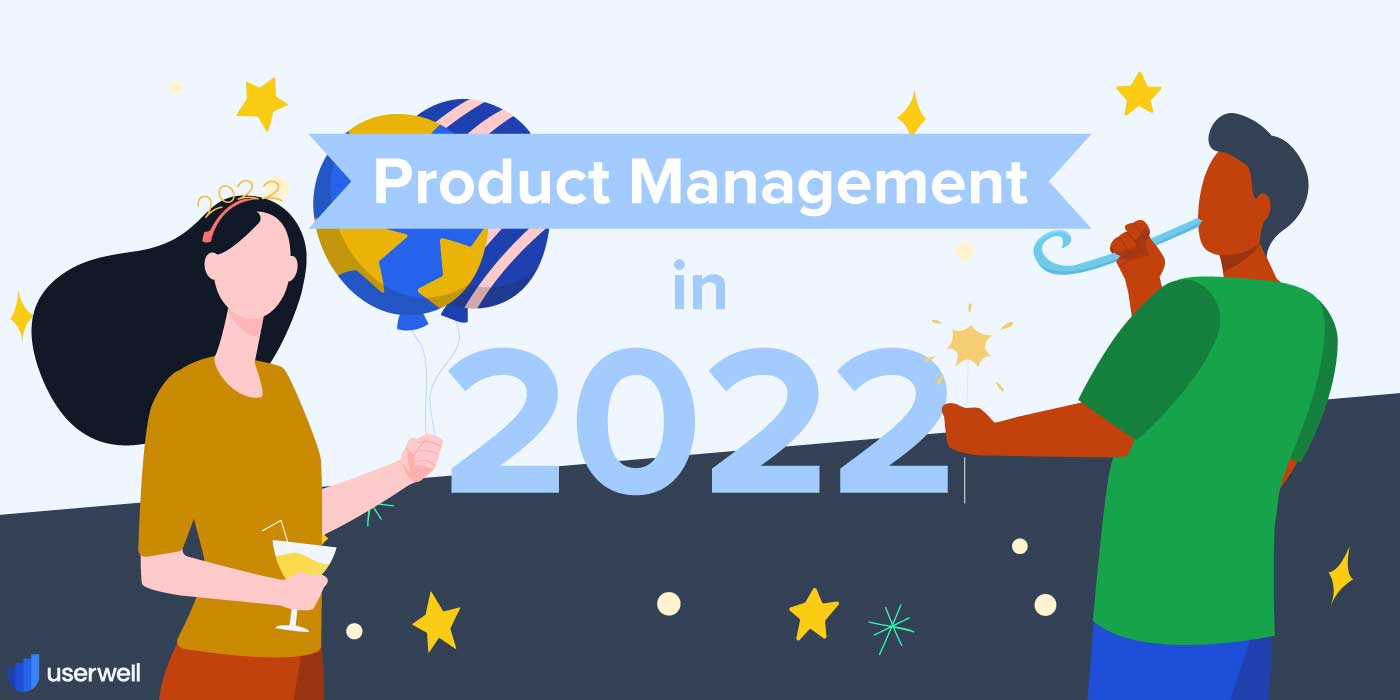 One thing we all had to learn over the last couple of years is that it is almost impossible to foresee what will happen over one year. But even though the pandemic showed us our limitations in predicting the future, it also made abundantly clear that we need to prepare for anything. While many thought that 2021 would be the year we return to normality, we now know that the "new normal" will be our companion for a while. So, let us dare to peek at what 2022 might have in store for the field of product management.
For this article, we took a close look at current studies focussing on trends in product management over the past years, but also those that recently developed.
We have gathered some statistics and insights into product management, as well as trends that we think will affect product teams this year.
Statistics
Rapid changes made the last years of our lives difficult. We felt the uncertainty not only in our private lives but also in our professional ones. Many companies switched to remote work, some more successful than others. The shift of focus was also noticeable in our products. After all, not only did we have to adjust to new circumstances, so did our products. Customers demanded new features, and they wanted and needed them fast.
Current Challenges in Product Management
After a while, the dust seemed to settle, but there were still challenges product management had to face. In a study, airfocus asked 300 product managers, product owners, and product directors about their current biggest challenges.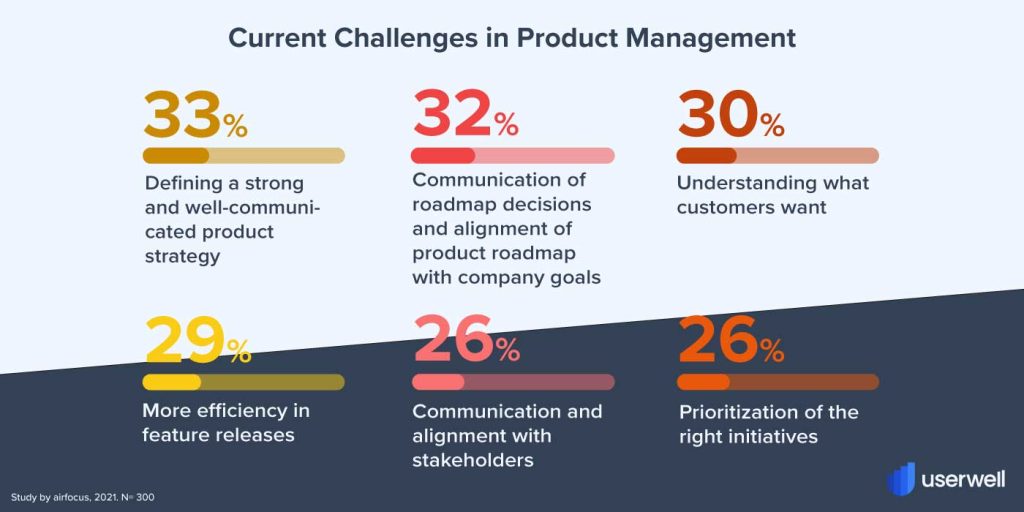 The main struggle for product managers was defining a strong and well-communicated product strategy. Followed by the issues of communicating the roadmap decisions and aligning product roadmaps with the company goals. Another common challenge was understanding what customers want and being more efficient in feature releases.
Upcoming Challenges in Product Management
While the previous question focused on the challenges at hand, product teams were also interviewed about the challenges ahead. Their top answers were as follows: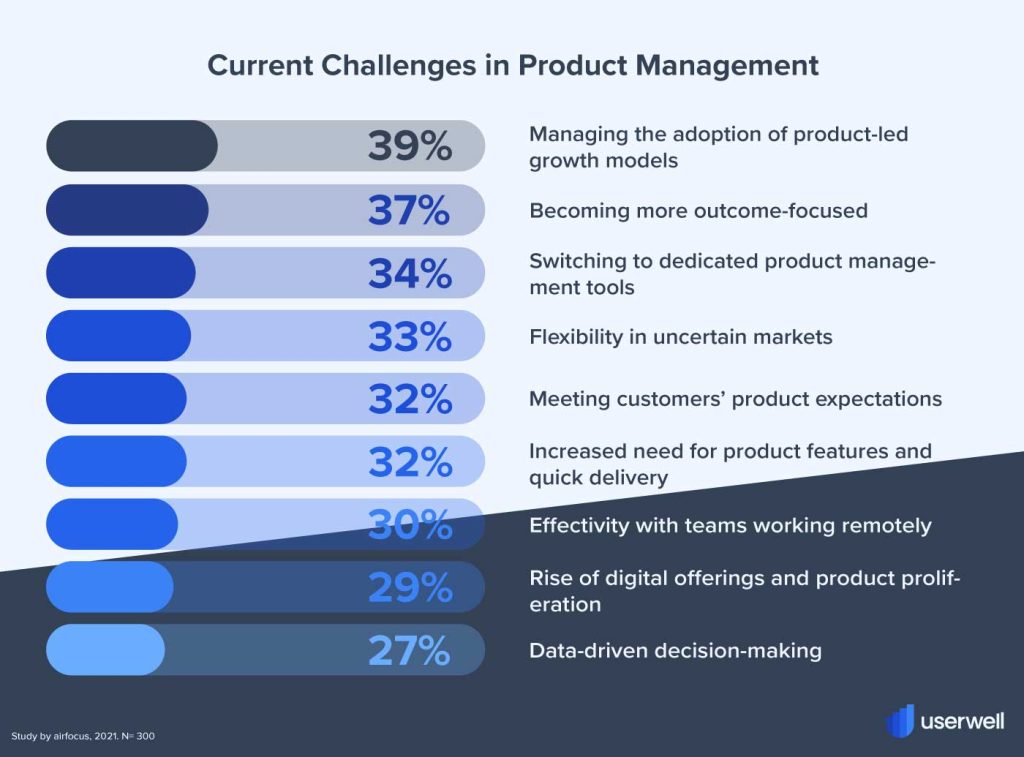 39% of the asked product managers stated that they have to focus on managing the pressure resulting from adopting product-led growth models this year. Another 37% said that becoming more outcome-focused will be the main challenge this year. About one-third also stated they are looking into product management tools to leave spreadsheets in 2021. Flexibility in uncertain markets won't be a thing of the past but also the future for 33%. Another challenge for this year will be meeting the increasing expectations that customers have for products.
This challenge goes hand in hand with another problem that product managers face. The need for more features and quick product delivery. 30% say they still need to work on delivering effective product management with their teams working remotely. 29% also say the rise of digital offerings correlating to the pandemic poses a challenge. Lastly, 27% of the asked PMs are shifting from gut feelings to data-based decision-making in 2022.
Time Expenditure in Product Management
The study also focuses on the time product managers spend doing certain tasks.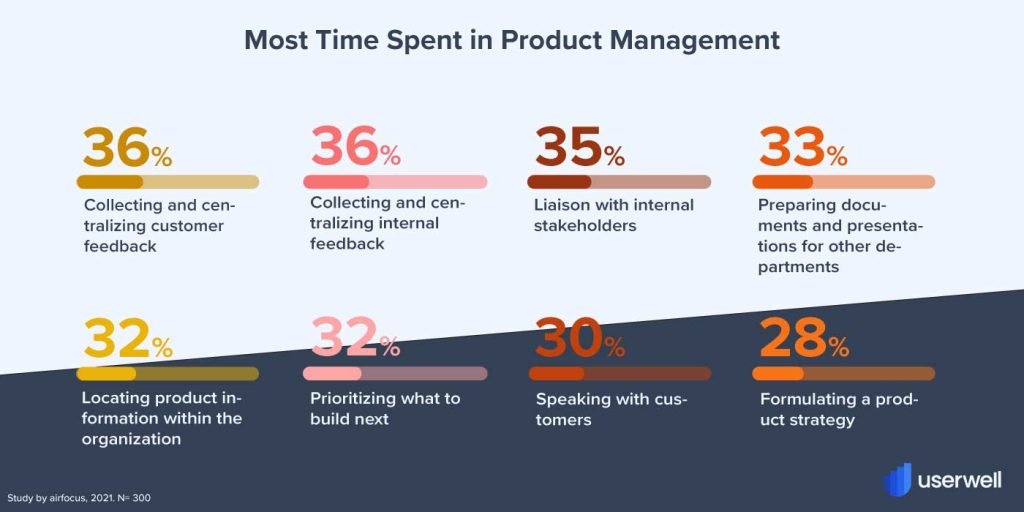 36% say they currently spend the most time collecting and centralizing customer feedback. Another 36% said that collecting and centralizing internal feedback takes the most time. 35% said the day-to-day liaison with internal stakeholders cost them precious time. 33% said that preparing documents and presentations for other departments is most time-consuming. 32% spend the most time on locating product information within the organization. Another 32% say that prioritizing what to build next costs them the most time.
30% say that speaking with customers is the most time-consuming. And another 28% said that formulating a product strategy is the task that takes the most time resources.
Tools Used in Product Management
Another discovery by this study was that product managers are underserved regarding tools and systems that help them with their day-to-day business.
Dedicated product technology is only in 6th place when asked what tools they use the most, just before using post-its on a physical wall (30%).
While 37% say the most used tool in product management is Slack, 36% say it is either Excel or PowerPoint. 34% use email, 33% use Google Suite, and 31% dedicated product management technology.

Challenges with Product Management Tools
Even though some product managers seem to use product management-specific systems, the study clearly shows that these are not yet where they need to be. The most common sources of frustration when it comes to product tools are: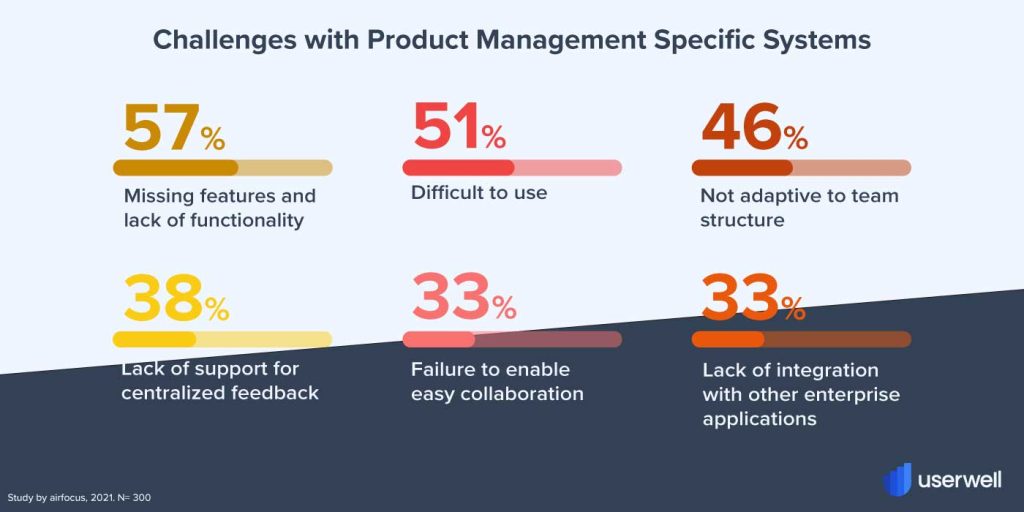 Lack of features and functionality is the number one reason product managers are frustrated with product management-specific tools. Followed by the difficulty to use and the lack of adaptivity to some companies' unique team structures. The lack of support for centralized feedback also poses a problem for many PMs. One-third stated that tools fail to enable easy collaboration, while another third is frustrated by the lack of integration with other enterprise applications.
Regarding feedback management, getfeedback conducted a study that shows which channels are commonly used by companies to collect customer feedback. To no surprise, 60% of companies still use email. Websites are in second place with 46%. Customer Calls make 46% and in-person interviews are used most by 43% of companies.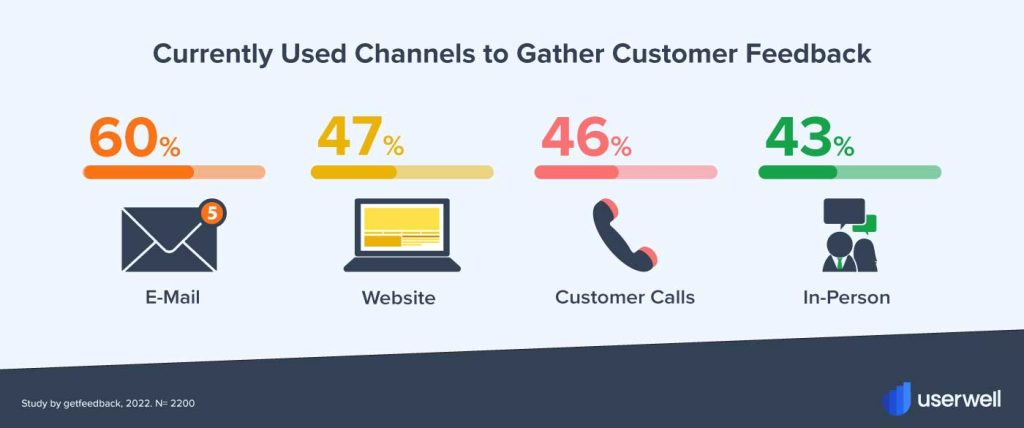 However, during the pandemic, companies had to adapt and therefore added more feedback touchpoints for their customers. 49% added Email as a touchpoint, 42% now offer a feedback option on their website. 38% added customer calls, 38% integrated a chat and 32% now offer in-app feedback and in-person feedback.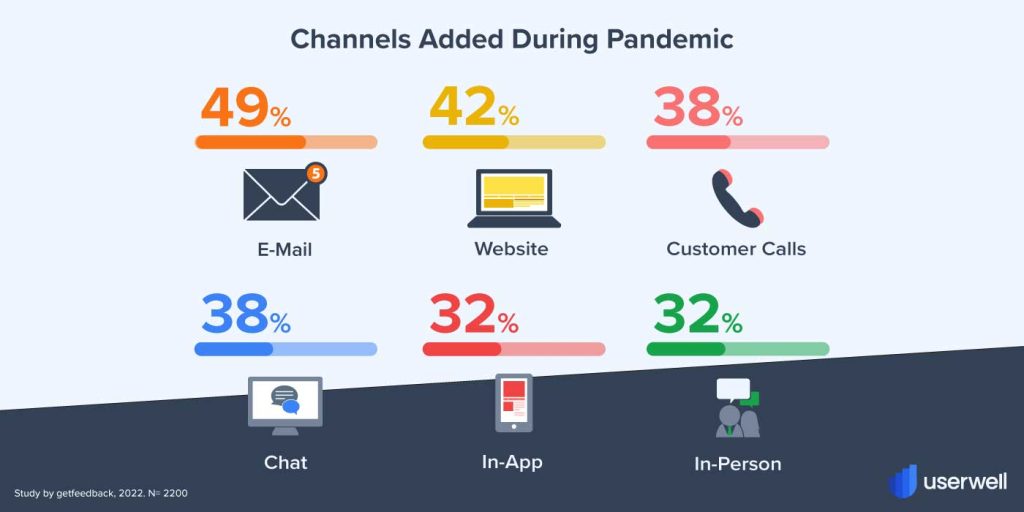 Product Management Trends 2022
Looking at these numbers, it becomes clear that there is a variety of challenges that product managers will face in the upcoming year. Here is what we believe will be this year's main focus and trends in product management in 2022.
Roadmap Communication and Stakeholder Alignment Need to Improve Overall
A trend that can be derived from the studies discussed is the ongoing struggle with communicating product dA trend derived from the studies discussed is the ongoing struggle with communicating product decisions with stakeholders. While this is surely not just a challenge for 2022, now seems to be the time for many product managers to tackle this issue and improve on it. Communicating roadmap decisions, however, is only half of the challenge.
Many product managers additionally struggle with aligning them with company goals. You can achieve stakeholder alignment by relying on a data-based decision-making process. Some tools help product teams not only gather useful product data but also analyze and prioritize it in a way that makes it understandable for stakeholders and, therefore, simplifies the communication process.
There is a Need for Customer-Centric Product Management Processes
Another development that has started to re-shape product management over the past few years is the increasing focus on customers. The earlier focus on internal processes and technology alone proved to be unsustainable. This is due to the ever-increasing need to offer more product features while simultaneously delivering products faster. Understanding what customers want will, therefore, be a big milestone for product management in 2022.
Understanding customer needs helps product teams meet the increasing customer expectations and develop better services and products. While the pandemic made face-to-face customer interactions harder, it also helped create new methods to interact with them digitally. Defining the main point of communication between product teams and customers can help bridge the gap between customer needs and product development. Tools like Userwell can help you find out what customers want, communicate with them, and improve your product.
Flexibility Needs to be More Than a Buzzword
If Covid-19 showed us anything, flexibility isn't just a given because we want it to be. Processes must be adaptable, so do tools and people. The ever-changing market made it challenging to keep an overview of all the digital offerings and product proliferation. This goes hand in hand with the rising customer need for more product features and quicker product delivery. The markets are uncertain and that's unlikely to change drastically in 2022. This is why flexibility is a must.
Teams must be able to work remotely. This can only be achieved by providing the right tools for an efficient remote work environment. Companies, if they haven't already, need to invest time in a long-term strategy that enables flexibility for their teams while still providing efficient cooperation solutions. But product managers also need to rethink the tools they are using. A never-ending series of video calls will not be sustainable in the long run. Instead, a strategic planning process that introduces asynchronous collaboration can help increase efficiency.
Feedback will Play an Important Role in Product Management
An area of improvement that will not only be of interest now but also in ongoing years is customer satisfaction. Customers are not satisfied with only buying a product that someone designed for them. There is an increasing demand for helping to shape a product to the customers' liking. This is where feedback comes in. It, of course, results in an insane amount of feedback product managers have to deal with daily. 2022 should, therefore, be the year product teams set up a feedback process that saves them time and money. Start by gathering all the channels you are already getting feedback from, but also by expanding on those channels. Tools like Userwell help you to collect feedback from different channels in one place.
Some PMs also struggle with understanding customer feedback which, at least, implies that customer feedback is already a part of their product planning strategy. Some companies are making an effort to understand their customers by analyzing the collected data and trying to improve upon it. However, making improvements or acting on feedback seems to be the hardest part for many companies.
Efficiency is Increasing and we are Becoming more Outcome Focused
Talking about efficiency, the studies illustrate that this topic is a problem for many companies. Especially when it comes to feature releases, product teams struggle with time and resource management. Moreover, product teams face growing requirements to become more outcome-focused. This can, again, be achieved by a data-driven decision-making process. Making a switch from spreadsheets to a product management tool may seem overwhelming at first, but an easy-to-use, intuitive tool can help you overcome this challenge and will help you save time and resources in the long run.
Struggles with prioritization are a thing of the past when relying on data and facts instead of gut feelings. A good start to get the ball rolling is to centralize customer feedback, as well as internal feedback. This requires a well-thought-through feedback process. Having all the feedback in one place will also help product teams who are now wasting time locating product information within the company.
Product Management Tools Need to Find Their Way to Product Managers
The product management software ecosystem already offers countless tools designed to help PMs in their day-to-day operations. While there is a wide range of tools, product teams largely have to rely on ad-hoc tools or workflows they have adapted over the years. This, in our opinion, is due to two things: Firstly, some of the product management-specific software is not adaptive to all team structures, doesn't offer enough integrations, or overall lacks functionality. Secondly, companies offer project managers a wide range of tools, but somehow product managers seem to fall short on this luxury.
This is clearly seen in the above-mentioned study where almost as many product managers stated they still use post-its on a physical wall than product-specific systems. 2022 should be the year where good product management tools that offer functionality and flexibility find their way to product teams. Together they can enhance existing workflows and support new ways for teams to work together.
Product Management Trends in 2022: Listen, Communicate, Improve!
While we still have a year full of uncertainty ahead of us, this is also a very exciting time. We are still trying to figure
While we still have a year full of uncertainty ahead of us, this is also an exciting time. We are still trying to figure out the new normal we live and work in. This becomes clear when looking at the challenges and concerns product managers have for this year. Overall, we need to improve our processes and set up new ones that offer more flexibility, better communication, and allow us to listen to our customers. However, one thing is even sure in these uncertain times: Product management will become more important in the company's ecosystem and will, therefore, need the tools to work efficiently in this role.
We wish all product managers a happy and successful 2022!